Weather watchers will have their eyes on the skies in the coming days as Hurricane Helene creeps closer to the UK and the Republic of Ireland.
She is currently one of a glut of tropical storms in the Atlantic, with Florence sparking mass evacuations as she heads towards landfall in the US states of North Carolina, South Carolina and Virginia.
But the Met Office says Helene could be heading east towards the south-western corners of the UK, with the tip of Ireland among the worst affected.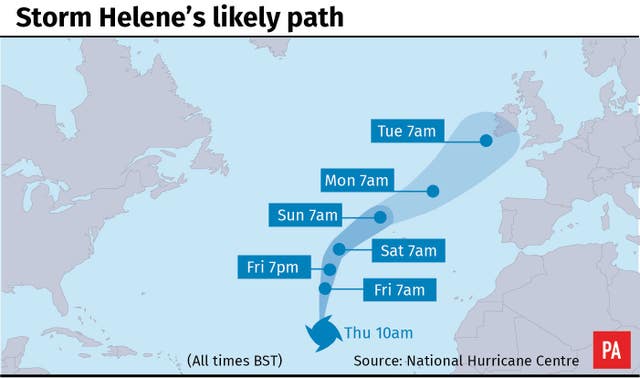 A similar section of Wales and the Cornish peninsular are also expected to bear the brunt of any storm-like weather, although much of the rest of England could be noticeably windier by the time Helene hits land on Tuesday morning.
Emma Smith, meteorologist with the Exeter-based Met Office, said more details would emerge within the next day over what impact the storm might have.
She said: "Helene is moving up from the Atlantic towards us.
"Hurricane Joyce is also in the Atlantic so we need to see how those two systems are going to move around each other because that could have an impact.
"It looks like Helene will move towards Ireland on Tuesday morning. It's possible that the west coast of Wales and Cornwall could get some winds as well, but we will get a clearer picture of what to expect very soon."
The storm would be expected to die out by Wednesday, Ms Smith said.