Hurricane Willa has grown into a potentially catastrophic Category 5 storm as it heads towards the Mexican coast south of Mazatlan.
Willa has maximum sustained winds of 150mph, though it is projected to weaken somewhat before hitting land late on Tuesday, the US National Hurricane Centre said.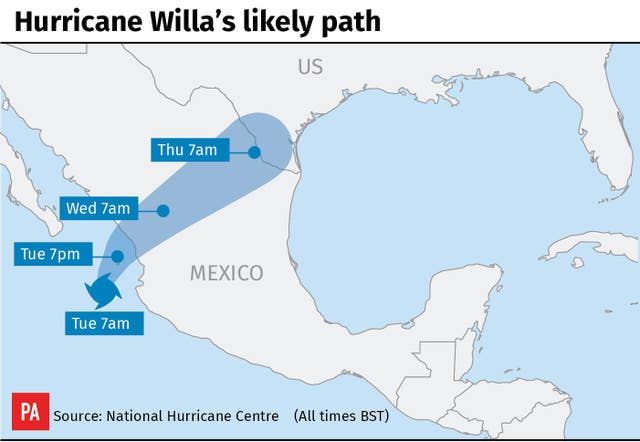 It is still likely to be an extremely dangerous hurricane when it makes landfall.
The hurricane is expected to pass over or near the Islas Marias – a set of islands about 60 miles offshore that include a nature preserve and a federal prison – then blow ashore somewhere along a 140-mile section extending from the resort town of Mazatlan to San Blas.
The governments of Sinaloa and Nayarit states have ordered coastal regional schools to close and began preparing emergency shelters.
Mazatlan, with a metropolitan area population of about 500,000, is a popular holiday destination. It is closer to the US than most other Pacific resorts and home to a large number of American and Canadian expatriates.
The hurricane's projected track also included Esquinapa, a town a few miles inland with almost 60,000 people in and around it.
The US National Hurricane Centre warned that Willa could bring 6-12in of rain – with up to 18in in some places – to parts of Jalisco, Nayarit and Sinaloa states, with flash flooding and landslides possible in mountainous areas.
Farther to the south, Tropical Storm Vicente has weakened but is still expected to produce heavy rainfall and flooding over parts of southern and south-western Mexico.